We were excited to welcome Weston Bingham and Richard Welch — co-editors/creators of the gorgeous, and rather exclusive, avant-gay art blog EastVillageBoys.com — to Pitch! They made quite an impression, proving to be witty, razor-sharp and enthused (did we mention Weston had quite literally arrived off a plane from Russia to the show? добро пожаловать Weston!) Weston's acidic wisecracks and Richard's smashing British good looks created a collective, seductive impact on stage. They were there to tell people exactly what they thought! Nice! Also: yow!
The much-buzzed about Cole Escola opened the show with a dramatic reading of some of the best/worst pitches and submissions that Weston and Richard have received at EastVillageBoys.com over the years, while photos of the letters, e-mails and artwork were projected behind him (this was Weston and Richard's idea…. nice!) Dirty pictures, scary poetry, unintentional folk art, offers to pose nude, offers to do anything, and crazy emailed rants… it's all a day's work for gay art blog editors. Cole recited all with dramatic attrition and/or slapstick tragedy. The audience howled. We were happy to see our scribbled illustrations of boys with penis noses we anonymously e-mailed them a year ago made it into this batch of "hilarious" rejects. Haha…ha… *sniff* Cole performed it all in his usual inimitable style. Bravo Cole!
Then it was time for an audience pitch:
Audience pitch #1:
Dear EastVillageBoys.com,
The space that housed the original Cock is still on Avenue A and 12th street. I'm sure the "back room" has been sealed for all eternity, the walls crusted from load after crusted load of now-dried sperm, probably caked into cave-like stalagmites of dried spooge, probably like those dried-resin hallways the aliens made in Alien. Anyway, would you and your team send an exploratory camera crew in there and report, and take some samples? I'm sure it would be fascinating.
Weston's response: Sure! Sounds good.
Richard's response: Isn't that the Table 12 restaurant now?
Weston: Can we go into their kitchen?
Actor/playwrite Tommy Vallette was first up, pitching to EeastVillageBoys his upcoming one-man play Seeing Sound, Hearing Color. We've seen Tommy on stage over the years, and have known him as a staple of several downtown scenes for eons, but one thing we didn't know: is that he recently went deaf! His new play is based on his experiences on recently going through all of this. No one knew what to expect. What followed was one of those rare moments at Pitch! where the audience becomes pin-drop quiet, wrapped up in something totally unknown. Tommy slowly unfolded his play's main character, a weirdly unique, hard-to-pinpoint kind of urban ruffian, lost in new New York City, unable to hear anything, and clinging to his memories of life on the rough streets of the past. Some fascinatingly lurid tales! Tommy's character comes across as a kind of cross between Lenny Bruce and Joe Dallesandro (especially with Tommy's 'new yawk' accent). Talk about acting! Since Tommy is newly deaf, his partner Darrell Wilson is slowly learning signing (but doesn't have it perfected quite yet). When it came time for Richard and Weston's comments, the half-right/wrong signed translations added some unintentional comedy to the evening. But… was it all planned? Clever! Weston and Richard gave two thumbs-up. Keep your eye on Tommy Vallette and his new play! Intense!
Up next was Sam Benjamin. How to describe Mr. Benjamin? He makes quite an impression. Sam is an academic on the studies of aesthetics in pornography, and has a new book out called American Gangbang, based on his experiences working in the Los Angeles porn industry during the 00's. But instead of a lecture on the semiotics of Cream Pie Boys II, he instead turned the Pitch! stage into a virtual Solid Gold stage (c.1981), performing a "top ten" of some of his favorite porn movie soundtracks, spanning several decades. Sam — quite the looker — half-talked/half-rapped over each track, explaining where it came from, who composed it, what actors we were hearing grunt over it, and drawing cultural reference from the era it come from. Here's a brief video snippet of Sam's performance.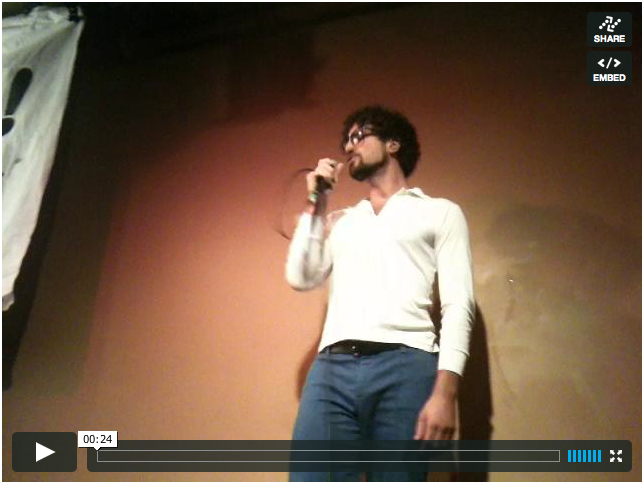 Weston and Richard loved it, as did everyone, and wanted to write about Sam right away (oh look, they already did!)
Audience pitch #2:
Our new audience correspondent Karl Jones wanted to record a video for Weston and Richard of EastVillageBoys, and he thought it would be a good idea to interview people on the street, asking them what they "…thought of the current East Village scene?" But instead of doing it on Avenue A and St. Mark's, he took his camera to the front of  the Guggenheim museum. What do random tourists think of the current East Village scene? (well, okay, and one porn star: Colby Keller, who just happened to be there). Here's a clip: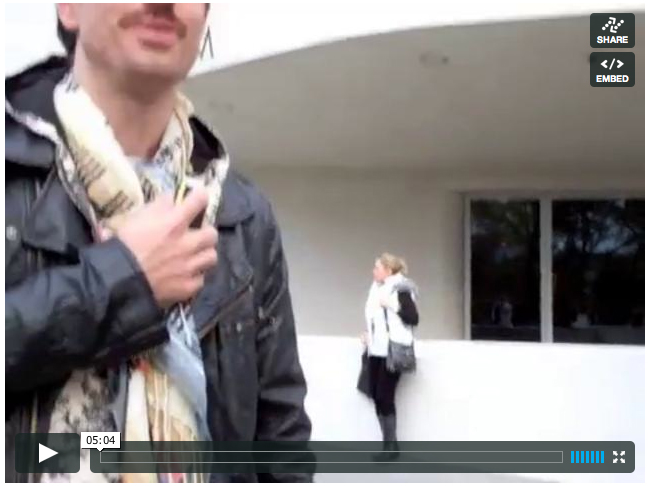 And then…
Performance artist Kyle Kupres was next. If you're around the downtown scene at all, and under-30, you know Kyle's a kind of glitter-splashed, violin-playing, art gypsy, often performing in costumes, playing his instrument and performing in as-yet-to-be-hip underground spaces. What would he do at Pitch!? He read a straight-up story about an experience he had hustling (and, uh… wow!) Kyle is one of those kinda-annoying people who is a "10" in all departments, including the talent department. His piece was well-written, fresh, and basically edited and ready for print. Well done! Weston and Richard thought it would be good as-is, accompanied by some photos of the very crush-worth Kyle. Everyone agreed.
Did we mention how crush-worthy Kyle is? We did? Well, he is.
Audience pitch #3:
Dear EastVillageBoys,
Please interview Dianne Brill. Thank you.
Weston's one-word response: Why?
Richard's response: Who's Dianne Brill?
(a discussion of Dianne Brill broke out amongst the audience for a few minutes)
Stand-up genius, performer-all-over-town and contributing writer for Saturday Night Live's "Weekend Update" Charlie Gaeta was next. Yay! Charlie told a hilarious, slapstick, awkward story about how his dad came out of the closet when Charlie was just a teenager (all true), and the audience ate it up. Well… not everyone. It turns out Weston and Richard from EastVillageBoys really didn't like the content of Charlie's story, and they let him know it, in front of everyone. Things got…
…a little tense. Charlie's story was first-rate (the audience howled through it all), but the EastVillageBoys editors felt the piece's content was homophobic, and only focused on the feelings of teenage Charlie and not his father's (Charlie is straight). But was it? The audience seemed divided too. Most there felt it was fine, and funny (and Pitch! is a pretty gay crowd!), but some did agree with Weston and Charlie's criticism. End result: Charie's piece was first rate, the audience loved it, but Weston and Richard had issues with the content, and they let him know why (and some of the audience agreed with this point), but thanked him for his time and talent anyway. Charlie took the criticism like a pro! Bravo to Charlie for pushing people's buttons! Also, bravo to Weston and Richard for speaking their minds (they are real editors!) This kind of intense "ouch-y" candor happens at editor's desks and such all day long in New York City, behind closed doors. At Pitch!, you see it live on stage. Welcome to Pitch! everyone!