Our Host: Brian Moylan of Gawker Media
Having someone from Gawker appear at Pitch! was a little like having that cooler, smarter, good lookinger-than-you high school friend that eventually moved to the big city and became successful and kind of famous while you stayed in your home town and worked for your dad's feed company… attend your birthday party back home. You both know it's a little awkward, but the truth is: you're so totally excited to see them! We were so totally excited to see Brian Moylan of Gawker! Since you've obviously read Brian's posts on Gawker, you know he's crisp, funny, on-point and has a slant on everything. He wouldn't shut up from the moment he hit the stage! We were so excited!
Brandon Wetherbee vs. Gawker: "gay fat" vs. "straight fat"
First up was Washington DC podcast talk show host Brandon Wetherbee. Boy did Brian Moylan have a slant on Brandon! Brandon has a confrontational approach to interviewing (or in this case, pitching), and he's damn funny! Brandon started off asking Brian why Gawker didn't write about local people more, and/or specifically why Gawker didn't write about him. Brian pointed out that Gawker used to sometimes make celebutantes out of local types, but that they generally don't do that anymore. He brought up Julia Allison as an example — remember her?
That lead to a discussion of being "fat." Brian believes gay rules are far stricter for waistline judging. This started the "gay fat" vs. "straight fat" wars between Brian and Brandon. Brandon asked where his appearance fell on the "gay fat" scale. Brian claimed he was "gay rag on a stick fat" (Brandon looks rather slim to us!) and then, for balance, offered that he himself was "gay off the scale so don't even ask fat" (Brian's actually rather tall and skinny). Huh? Brian claims the gay rules are different from straight rules for judging everything.
Mid-argument, Brian Moylan pressed Brandon on his long term goals. "Where do you want to see yourself in five years?" (five gay years?) Brandon Wetherbee said that his goal was his own television talk show. He then proved this by arguing with Brian for twenty more minutes (and staying funny!) This guy likes to push people's buttons, which, you know… we kinda think is a good trait to have if you're a talk show host. And Brian Moylan proved unflappable, which, you know… we kinda think is a good trait to have if you're part of Gawker. Yay everyone!
Nora Burns vs. Gawker: kid's parents and dog owners (boo!), murders (yay!)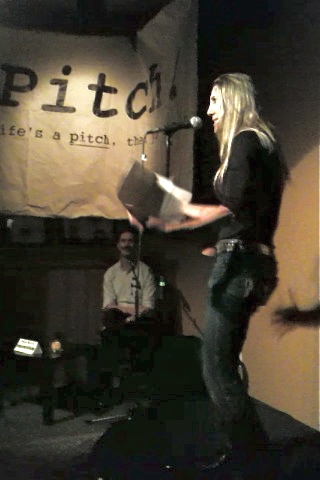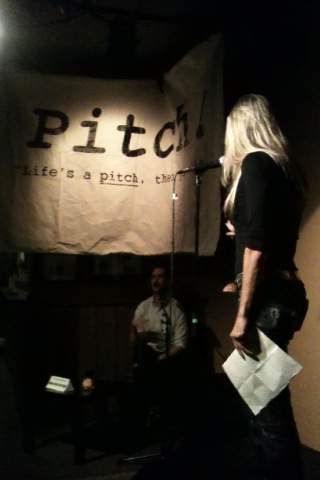 Next up was Nora Burns (at left). We've seen her as an actress in movies, and as part of ensembles (one is the excellent comedy troupe Unitard, with Mike Albo and David Ilku), but we've never seen Nora alone on the mic. Guess what, she's amazeballs! "I hate kids, but I have some myself. So I now realize I just hate kids' parents." Nora revealed at one point, to cheers from the crowd. Brian Moylan bonded with her on this. Then Nora pitched a similar like/dislike essay about NYC dog owners.
She also pitched to Gawker a side-by-side photo essay of former NYC haunts like, say, the legendary gay sex club The Mineshaft, next to what they are now (FYI: it's a breezy outdoor cafe… with a front-row view of the High Line!) Brian liked it all!
Then Nora complained that there aren't enough scandalous local crimes happening in NYC anymore, using the infamously grisly 1985 Andrew Crispo Art Gallery murder (and it's subsequent Vanity Fair article, and book Box of Toys) as example. It's true. Did 9/11 wipe out all potential future "haut monde" bloodbaths for NYC? Brian and Nora bonded over this disappointing fact. Brian said he thought the Michael Alig murder (which happened 16 years ago) might ignite another wave of Manhattan glam-scandals, but… here we are in sunnier, healthier, post-9/11 Mall-hattan. Lets get on-the-ball you rich, bored, society people bent on revenge and/or sexual obsession… start a-slashin'! We're bored! Lots revealed here between Brian and Nora. Good work!
Adam Wade vs. Gawker: Intense!
If you haven't seen Adam Wade yet, we recommend it. Can we say, uh, wow? He's one of those ineffably magic people. Very New York. Remember Woody Allen in Manhattan/Take the Money and Run/Annie Hall? That's kinda similar to Adam Wade… except from the future. We know that is said a lot, but it fits here. The guy is a 17-time Moth Story Slam winner (and was an ESPN commentator). Adam told a story based on a weird teenage memory from one of his first jobs in New York City, as a bus boy at a hang-out for fading Broadway types. In the story, he tried to spontaneously give a surprise birthday party cake to particularly gruff and unhappy hasbeen, and ended up getting yelled at by everyone but the hasbeen.
The tale had a sort of aspic-colored, sloooww burn. By the end, the whole room had kind transformed. Nice! He even got Brian Moylan to shut up for a whole fifteen minutes! (kidding Brian, we lurve you!) Pay attention to this Adam Wade guy…he's going places.
Mark Allen vs. Gawker: Is Mark crazy?
Pitch's own Mark Allen presented a looong series of anagrams of Gawker Media and related website URLs, exampled with boards and pointers and examples.
For instance, did you know an anagram of "http:www.NYTimes.com/pages/fashion" = "A Few Nymphs With Competition Swag?" or "A Few Panseys Comitt Shoping, *m-m-pwwah!*"
Or that an anagram of non-freelance paying scandal website "http://www.HuffingtonPost.com" ="Huf Ppost con? G, nno shit! F.T.W.W.W.!"
Or that an anagram of the name Nick Denton = Nick Tendon (or Net Conn-Kid, or Net Non-Dick)?
Lifehacker.com = Email For Check
Defamer.com = Modem Farce
Jalopnick.com = Jock Loin Map
http:www.Gizmodo.com = C Pig Top Mothozz
http://www.Jezebel.com = Jew Temp Woz Belch-E!
http://Io9.com = Hot Topic
http://www.Fleshbot.com = Hef-T Womb Splotch!
There were lots and lots more! The crowd laughed, and liked… about half of it? But then at one point didn't quite know what to make of it? Maybe? Anyway, Mark soldiered on like a trooper during all the parts where the audience was awkwardly quiet, covering any and all Gawker related sites. It was the type of thing you'd normally see a crazy person with a hand-drawn cardboard sign ranting about while sitting outside of Grand Central… brought proudly to the Dixon Place stage by Mark! Well, Brian Moylan liked it!
Greg Walloch vs. Gawker: This biggest penis dish of all?
Pitch's own Greg Walloch had the audience howling, pitching to Gawker a story about how one time on a film set, actor Stephen Baldwin straddled Greg's leg, opened his pants and flopped his penis onto Greg's thigh, prompting him to touch it. Pretty gross interesting! Especially considering Stephen's later Christian/anti-gay reformation. Greg had his own theories as to why it happened (it did occur before Stephen's 'transformation,' and reportedly he did that to several actors on set). Brian Moylan made a mental note.
Thanks to our excellent performers Brandon Wetherbee, Nora Burns, Adam Wade, and a special thanks to our guest editor Brian Moylan of Gawker Media!!! And the audience!!!
xoxoxo,
Mark & Greg