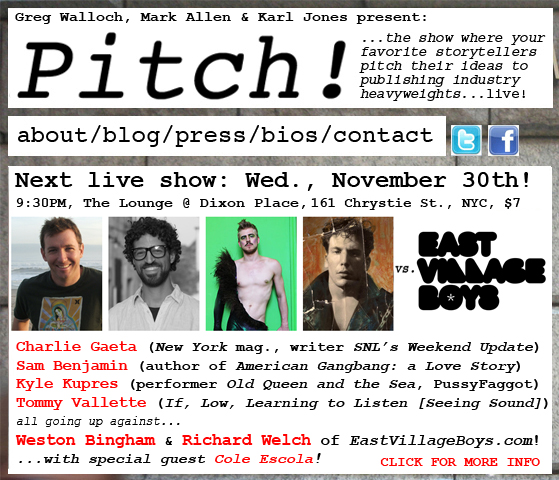 The old saying "If you can remember the East Village, you weren't there!" will be proven wrong at November 30th's Pitch!, as we welcome esteemed writers and performers  Charlie Gaeta (sex diarist for New York magazine, contributing writer Saturday Night Live 'Weekend Update'), Sam Benjamin (author of American Gangbang: A Love Story and Confessions of An Ivy League Pornographer), Kyle Kupres (violinist and performer Old Queen and the Sea, PussyFaggot) and Tommy Vallette (actor If, LOW, playwrite Learning to Listen [or Seeing Sound]) …all going up against Weston Bingham & Richard Welch (Co-Creators and Co-Editors at EastVillageBoys.com), who'll be responding to performer and audience pitches, as well as bringing their very special guest Cole Escola to "perform" some of the most questionable submissions EastVillageBoys.com have received over the last year. Nuts? Nuts to the power of infi-ninny!
Come for the insanity, stay for the networking! Live video! Auditions! True Confessions! Gays! Straights! Non-committals! …oh, and writers! AUDIENCE PITCHES ARE WELCOMED AND ENCOURAGED! Come get in line! Hosted by Greg Walloch and Mark Allen… and our fantastic new audience correspondent Karl Jones!
Pitch! happens at The Lounge @ Dixon Place, 161 Chrystie Street, 9:30 PM. Ticket price: $7. No drink minimum. Showtime: about 90 minutes.